We have yoga!! You asked for it – we're providing it!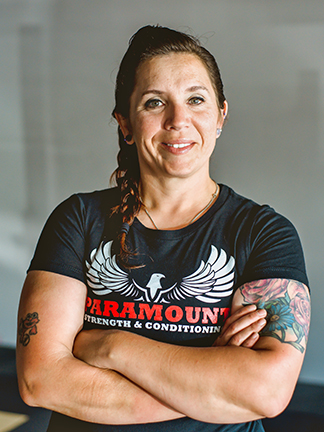 Meet Cecelia Miller
Cecelia fell in love with yoga in 2006 and how great it made her feel. Since then, she has followed her passion to learn more. Compelled to share her love of yoga with others, Cecelia completed her Power teacher training in fall of 2015 and has been enjoying teaching yoga ever since. Not only in the Powers style but Hatha, beginner, and restorative as well.
Cecelia will be offering two restorative classes and one Hatha class at Paramount each week: Tue/Thur 8-9pm and Sun 9-10am.
Restorative: Sundays and Tuesdays, a relaxing practice. Most of the postures are in a resting position and held for several minutes at a time to allow connective tissue to heal. The focus is on gentle stretching without strain.
Hatha: on Thursday nights, Cecelia will offer a slow flow/alignment-style Hatha class which will be more active and include standing and balancing postures, with a little bit of breath work.
Yoga is included with unlimited Paramount memberships, otherwise, you can purchase a Yoga 10-pack here.