Food Talk
There's SO much information in the media and on the Internet about nutrition. When wondering either where to start or where to improve, always refer back to this image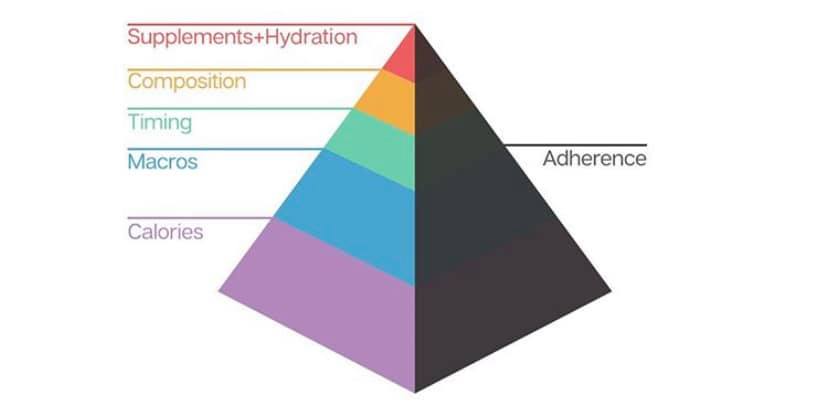 Don't worry about running before you can walk, don't worry about walking before you can crawl, etc.
The BASE of any goal will always be 'calories in/calories out'. When looking to improve nutrition, it's essential to know your:
Basal Metabolic Rate [BMR]: changes with age and different body compositions (it's basically how many calories your body naturally burns if you just existed/laid in bed all day)
As well as your activity levels (fitness trackers aren't super accurate but it's better to have some idea of your daily activity).
Next…you want to start to focus on MACRONUTRIENTS. Okay, so you calculated you need 2200cal per day for your goal. You can eat 2,200 calories of just bananas, yes, but we need to have some balance of PROTEIN, FATS, & CARBS.
Once you have that figured out…then you can start to dial in meal time and more balance of what macros to eat when!
Dialing things in further…we can now look at the source of your foods and macros. QUALITY foods. Where is your meat/eggs coming from, fresh, local, in season fruits and veggies. Are we eating a lot of gluten free crackers, sugary yogurts or oatmeal packets? Real Food = if it was ever alive or had eyes
LASTLY, once all of that is dialed in, then we can start to talk supplements. They definitely have their place! But we need to make sure our day to day eating is consistently filled with proper micronutrients from fresh quality foods.
Final thought…NONE OF THIS MATTERS IF ADHERENCE ISN'T THERE. Find a change you can stick to no matter what! When dialing in any of these categories, you need to give your self some solid time to see if somethings working or not working. Consistency over perfection. But see what some small consistent changes/tweaks can do for your goals first before biting off more than you can chew
And remember, I'm here to help!
—Coach Kayla