What would Paramount Strength and Conditioning be without our unique and wonderful members? Our Member Spotlight Series allows us to highlight members of our amazing community and share what makes them special.
---
This month, we are shining the spotlight on Jeff Helfrich, a noon regular committed and focused on improving his quality of life.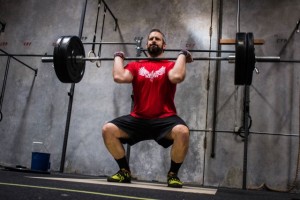 Q: What is your Fitness background?
A: I was the typical gym rat. I trained at least 5+ days a week usually once in the morning (cardio) and a second weight lifting regimen in the evening. Typical bodybuilding style. As far as other aspects of fitness I ski and mountain bike.
Q: How long have you been CrossFitting?
A: I just reached my one year anniversary.
Q: How has CrossFit changed your life?
A: I thought I was in pretty good shape when I first started doing CrossFit. Well, I was sadly mistaken. I quickly realized that there is a big difference between being fit and performance fit. At age 41, CrossFit has made me performance fit and given me the strength, stamina and mental capability to tackle any physical activity that comes up.
Q: What are your current goals?
A: Increasing my conditioning and overall strength. Basically I want to be able to go really hard and fast for a long time.
Q: What is your favorite movement?
A: Wall Balls, I know strange, they are not the most glamorous or the most fun but you get to squat and throw a ball into the air then catch it and repeat.
Q: What is your least favorite movement?
A: Burpee's over anything, a bar paralet, sand bag, a box. Burpee's are gross to begin with but then you throw in a jump over something movement and it goes down hill from there really quick.
Q: What would you tell someone who is interested in Crossfit?
A: I would say always try it, but not once you need to try it for a week. That way you will get all aspects and variety that CrossFit has to offer.
Q: What do you think of the community of the box?
A: It is amazing. Everyone pushes each other to get better, to go fasters and harder. You never have to suffer alone. There is a wide range of athletes here and that was the biggest motivation for me to belong to Paramount.
Q: What is one fun fact about yourself?
A: I have only broken one bone in my life. All of my friends think that is strange with the amount of ER/hospital visits I have had over the years.